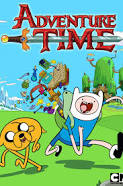 Adventure Time is a 2010 popular show on Cartoon Network.It stars Finn the Human and Jake the stretchable Dog on weird and and big adventures in the Land Ooo.They meet many characters like Princess Bubblegum,the evil Ice King,Marceline the Vampire King,and many more.Ice King even has his own "fan characters" of Finn and Jake called Fionna the Human and Cake the Cat,although they appear in very little episodes.
The show was created by Pendleton WardHe also created the Cartoon Hangover web series Bravest Warriors.
CN.Com Games
Edit
There are a total of 25 AT Games(Excluding just character apearences in crossover game like TKO,Mixit:Video Creator,Snow Brawl Fight,and more).
Here are links to the pages we have on AT games on this wiki:
There are a total of 10 AT apps.(As of 11/914.)11 if you include games from Cartoon Network Anything.
All of them are available on the App Store,5 are availabe on Google Play,and 7 are available on the Kindle Fire.
Name:                                                     Available On:
Card Wars                                             All 3             
Legends of OOO:World War Wizard  App Store
Time Tangle                                          All 3
Treasure Fetch                                    All 3
Ski Safari-Adventure Time Edition    All 3
Fionna Fights!                                     App Store and Kindle Fire
These Lumps                                       App Store
Rock Bandits                                       App Store and Kindle Fire
Beemo                                                  App Store
Jumping Finn Turbo                            All 3
Ad blocker interference detected!
Wikia is a free-to-use site that makes money from advertising. We have a modified experience for viewers using ad blockers

Wikia is not accessible if you've made further modifications. Remove the custom ad blocker rule(s) and the page will load as expected.