Bufo's Epic Race is an advertised game based on the Blue Sky Studios 2013 film "Epic".
Bufo's Epic Race is a 3-D game where you race to get pods,while avoiding obstacles.Do to it's 3-D perspective,the game is surprisgly hard to play,especially if you want to get the 1st and only badge.Other than that,there is not much to the game.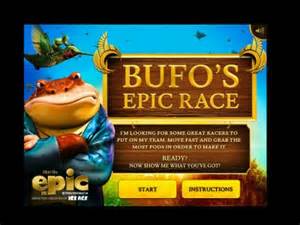 Bufo's Epic Race has a Cartoon Network exclusive badge.It is hard to get,but I eventually got it. Here it is!

Pod Racer: Get 10 pods and finish the race with them. Worth 100 points.
Ad blocker interference detected!
Wikia is a free-to-use site that makes money from advertising. We have a modified experience for viewers using ad blockers

Wikia is not accessible if you've made further modifications. Remove the custom ad blocker rule(s) and the page will load as expected.