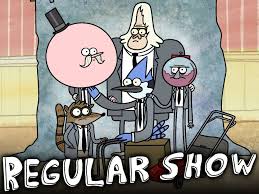 Regular Show is popular TV show about two friends Mordecai and Rigby and their wierd and crazy adventures in a park.The show was created by J.G. Quintel.It premiered on Cartoon Network on September 6th,2010 and is ongoing.(As of 2014)
The pilot of the show was "First Day"
As of 2014,there has been six seasons to the show.
Season:               Episodes:               First Ep. Aired(US)            Last Ep.Aired(US)
Season 1               12(minus pilot)        September 6 2010               November 22 2010
Season 2               28                           November 29, 2010              August 1, 2011
Season 3               39                           September 19, 2011             September 3, 2012
Season 4               37                           October 1, 2012                    August 12, 2013
Season 5               37                           September 2, 2013               August 14, 2014
Season 6               40                            October 9, 2014                  TBA
Season 7              Coming Soon
Reception
Edit
The show has gotten positive reception.
Here are links to the wikis we have on games based off of Regular Show:
Paint War
RIGBMX
RIGBMX 2: Crash Curse
Killer Zs
Trash n' Dash
Just A Regular Game
Nightmare-athon
Escape from Ninja Dojo
All Nighter
Fist punch
Ride 'em Rigby
Cupcakes of doom
Dance of doom
Dimensional Drift
Knit wits
Catbatman (talk) 03:30, November 6, 2014 (UTC)
Minor Edits
Edit
Ad blocker interference detected!
Wikia is a free-to-use site that makes money from advertising. We have a modified experience for viewers using ad blockers

Wikia is not accessible if you've made further modifications. Remove the custom ad blocker rule(s) and the page will load as expected.